For some, a traditional wedding is not always the ideal way to say I do. Many do dream of saying their vows with a backdrop filled with sea foam and sail boats. Conveniently enough just shy of fifty percent of the American population lives within a close radius of the coast, making Nautical Weddings a major hit. Maybe you grew up on the water, or your fondest memories have been made by the salty sea. Make more lasting memories and "tie the knot" with the motion of the ocean behind you, and host the perfect nautical themed wedding.
Lucky for us, here in Maryland, there are tons of beautiful sea side towns to host your dream nautical wedding. Annapolis, as well as Saint Michael's on the Eastern Shore are popular locations with breath taking views. One plus of these wedding hot spots, is that for those guests coming from out of town, there are places to stay, sights to see, and activities to be enjoyed. However, here is a helpful hint for the bride and groom; be sure to book a block of rooms at a hotel of your choice for those guests who do need to travel to your destination. I can guarantee in season, rooms will go fast! Another fun tip is that since your ceremony will most likely be outdoors, there is a chance the temperatures may not be on your side. In summer months especially, make your guests most comfortable by providing them with a "wedding survival kit" as they take their seats. Include mini fans, programs, and these water bottles with custom anchor labels! Your guests will never want to throw the bottle out, and they will be definitely thanking you later for helping them keep cool!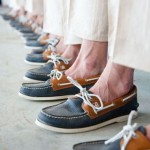 The great thing about nautical inspired weddings is that you can truly make your vision happen. If over the top isn't your thing, weddings by the sea give you the opportunity to dress down a bit. Be open-minded and step away from traditional wedding apparel. Typically, Navy dress is a constant at nautical weddings and I find it looks great with the theme. However, any cool colors will complement the colors of the sea. The groom and his groomsmen will look awesome wearing pinstriped attire, khaki's, and every boater's favorite… Sperry's! Short dresses will look great on your bridesmaids as they stand beside you on your big day. Not only will the bridal party be comfortable, but this can help set the tone of the wedding by incorporating your theme into more than just decoration.
Apparel isn't the only thing you can get creative with; nautical inspired weddings allow you to get crafty while staying inside your chosen theme. There are countless amounts of "do it yourself" projects that can help save money as well as make your vision come to life. Since you are "tying the knot" why not show everyone that you are a skilled sailor by tying knots around simple chairs or napkins to give them a nautical feel. Rope knots can also be used to hold table numbers and as accents on table centerpieces! Anchors are another nautical wedding constant. Do not let anyone forget you are "anchoring your hearts together." Lastly, finish off the nautical feel with pin stripes, sea shells, and even decorate life preservers and hang them around the venue!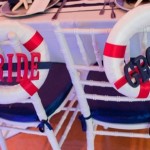 Being that you are hosting a gathering on the water, you will have access to the freshest seafood around! Serve crowd favorites like Maryland crab cakes, and seafood or clam bar. Don't forget the Old Bay! Since not everyone is a fan of sea food, make sure you have other entrees to satisfy everyone's hunger. Step out of the box and for dessert; and along with the classic desserts give everyone's sweet tooth something different with a salt water taffy bar!
High tide or low tide, stand by your loved ones side and say I do with the perfect nautical wedding! As Always, Happy Blogging 🙂