Every bride wants to look her absolute best on her special day, but finding the perfect dress can be a little overwhelming in the midst of the rest of the wedding details. But do not worry brides I will help walk you through the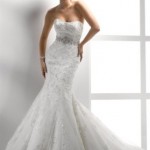 process so you can choose the right dress to flaunt all your best attributes and hide those areas you might not be as comfortable showing. First things first, learn your body type. Whether it is an hour glass, pear, apple, athletic, inverted triangle or petite shape, knowing the type of body you have will help find the right style that will look great on you.
The hour glass and the athletic shape both look great in similar dress styles. The hour glass body wants to show off their curves and define their waistline, and the athletic body wants to create curves and define their waistline as well. Any dress with accessories along the waistline such as beading or ribbon will flatter your body. A mermaid dress is a good choice, as it hugs your curves and helps outline your waistline, it is a very sexy dress. Make sure you stay away from dresses that hides your waist as you will appear bigger than you are.
For our apple shape brides the ball gown dress is your friend. This style of dress will compliment your curves and hid the things you do not want to be seen.  Both our apple shape and pear shape brides look gorgeous in empire style dress as well. An empire with a high waist line is what you want to look for as it will flow beautifully down your bottom curves. This style of dress also looks fabulous on our inverted triangle or bustier brides. Because our inverted triangle brides are trying to create bottom curves the high waistline and flowing bottom will help achieve that look.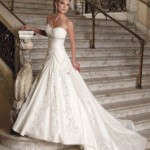 Our petite brides want to stay away from dresses with extra or a lot of fabric because they will be overrun by the dress. You always want to make sure that you are wearing the dress and the dress is not wearing you! That goes for all brides. Silhouette gowns look stunning on petite brides, you can wear high collar dresses or low cut backs, both types will show off your great figure. For more of a princess type, the A-line is another dress that looks great on our petite bride. It is similar to the ball gowns, but has the right amount fabric for your body shape.
Reminders when you go to your fittings. Bring a strapless bra similar or the bra you might be wearing on the big day as well as shoes that resemble the height that you want your wedding shoes to be.  You want to do this because as you are trying on different gowns you want to be able to see how the dress will fit and have it altered properly. Of course you will want to have all your bridesmaids, mother, mother – in – law and grandmas there but be careful not to have to many opinions as it may cloud out your own.  And the number one rule, if you cry and everyone has goose bumps when you walk out, you know that you found your dress.