Drive Through Medical Tent Rental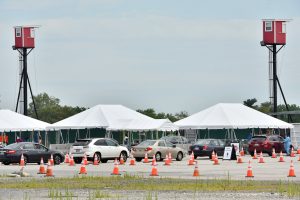 With many medical facilities in need of extra space to help make testing safe for staff and patients, more and more facilities are looking to expand into drive-through COVID testing. We know that the spread of COVID-19 is putting a strain on hospitals and other medical facilities, which is why we want to offer an option to help alleviate the burden and make testing safer for medical staff and patients. Party Plus Tents + Events is here to help make drive-through testing an accessible option for facilities all over Maryland, DC, Virginia, and Pennsylvania with our drive-through medical tent rental.
Our drive-through medical tents are constructed with heavy-duty materials and provide ample space for any equipment your staff will need as well as room for your patients to drive through. In addition to the tents, we also offer a variety of pieces of equipment to make the lives of your staff easier. To improve comfort and convenience, we also offer generators, HVAC systems, sanitizer stations, handwashing stations, and other additions that can be installed with our drive-through medical tent rentals. We tailor each rental to suit the needs and desires of the facilities we work with to ensure they have everything their staff needs to function at their best. In addition, we'll also deliver the tents to any facilities in Pennsylvania, DC, Maryland, and Virginia, as well as set up the tents when we get there. We want to ensure that everything goes off without a hitch with your rental.
If you're interested in adding space for testing to your facility that is safe and quick to set up, please feel free to reach out to us. We're happy to do what we can to help make testing a safer experience for facilities in Virginia, Maryland, DC, and Pennsylvania. Additionally, if you have any questions about our drive-through testing tents or other rentals, please reach out to us here. We're always happy to help our customers.