Hospital Containment Tents
In the midst of the coronavirus pandemic, it is paramount for hospitals to do what they can to ensure the health and safety of their staff and patients. However, whether it's not having the right equipment, or not having enough of it on hand, some hospitals and medical facilities find themselves running short on space and safety equipment. Thankfully, Party Plus Tents + Events is here to help by provid
ing quality hospital containment tenting and walls.
With space becoming a premium for hospitals and medical facilities across the country, some are having to expand to different locations or to erect tents to handle the influx of patients. Our hospital containment tents and walls are the perfect solution for expanding treatment into these new pages. We're able to get these patient isolation walls to any location in Pennsylvania, Maryland, DC, and Virginia. We'll deliver the containment solutions to your hospital or facility and even have our expert technicians install the walls for you as part of our rental package.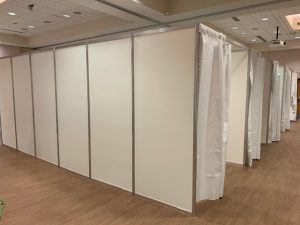 Our patient containment walls and tenting are quickly installable by our expert technicians. Additionally, they provide an affordable and sanitary way to add more rooms to the areas where your facility is handling treatments. Our temporary wall systems are easily cleaned to make your life and the lives of your staff easier and safer. Additionally, if your hospital or facility is in need of extra space, our containment walls work great with our emergency medical tent rental solutions, which can be tailored to suit the needs of your facility and include everything from HVAC and power to handwashing stations.
If you're interested in adding our rental containment wall systems to your hospital or medical facility, please feel free to reach out to us. We'll help you get exactly what you need to run your facility at its best. If you have any questions about our rental services or are looking for something else to help out your facility in this trying time, feel free to contact us here. We're always happy to help out.