Hygiene Barrier Rental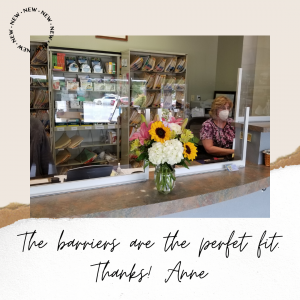 Ensuring the safety of staff and customers is paramount for businesses and municipalities in the time of the coronavirus pandemic. Getting the supplies you need to do so can be difficult. However, with that in mind, Party Plus Tents + Events is happy to provide businesses, hospitals, and municipalities in Maryland, Pennsylvania, Virginia, and DC with quality plexiglass barriers to help keep their staff and customers as safe as possible during the coronavirus pandemic. No matter the size or needs of your business, we're happy to provide the hygiene barrier rentals are that best suited for your business.
We offer a variety of plexiglass barriers that are able to perfectly suit the needs of any business in Maryland, Pennsylvania, DC, and Virginia. Whether you're looking to get a barrier for your reception desk or barriers to put between tables in your restaurant or dining tent, we've got you covered. In addition to providing you with the best plexiglass safety barriers available, we'll also deliver them to any location in Maryland, Pennsylvania, DC, or Virginia as part of the rental and set them up for you. We want to make sure that all of our rental customers are in good hands from start to finish. Additionally, if your business is in need of extra space to fit into local regulations, we can provide tent space with HVAC systems to help your business accommodate those regulations, in addition to the original hygiene barriers.
When it comes to getting your business, hospital, or municipality set up with our hygiene barrier rentals, feel free to give us a call at (410) 303-9004 and tell us exactly what you need for your business. We'll then work with you to deliver the rental right away and ensure that everything is set up correctly. If you have any additional questions about our services or scheduling your own rental, please feel free to reach out to us here. We're always ready and happy to help out our customers.