Outdoor Dining Tent Rental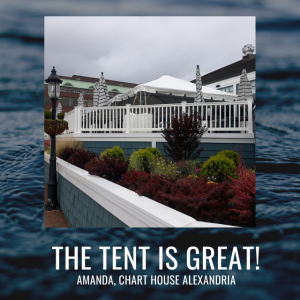 Whether it's to fulfill the need for a larger eating space or having to comply with state requirements, outdoor dining tents are a great option for any restaurant. Party Plus Tents + Events is happy to provide high-quality outdoor dining tent rentals to restaurants all across Maryland, DC, Pennsylvania, and Virginia. We offer a variety of different sizes and styles of dining tents to meet the requirements of any restaurant.
Outdoor Restaurant Tent Rentals
When it comes to the options available with our dining tents, we want to make sure that every possible option is open to our customers. That's why we provide a selection of additions that can make your outdoor dining tent just as comfortable as any indoor space. We can install HVAC systems, generators, lighting, and a variety of other additions to suit your needs and ensure that your customers are comfortable during the dining experience. We're sure that you and your customers will be pleased with our dining tents.
We offer our rental services to any restaurant or business in need of dining tents in Maryland, Pennsylvania, DC, and Virginia. However, our services are more than just rentals. We'll bring the tents and other systems to you and set them up for you. That way you can be sure that everything is set up correctly. We want to make sure that your rentals go off without a hitch and that you're happy with your experience with Party Plus Tents + Events.
If you're interested in our outdoor restaurant tent rentals, please feel free to reach out to us, and we'll get you set up with the rental package that is perfect for your business. If you have any questions about the other rental services we offer and how we can tailor our rentals to you, please contact us here. We're always happy to help out our customers.