Dance Floor Rental DC, MD, VA
Dance FloorDisco Ball Dance the night away! Whether you prefer traditional teak or retro checkerboard, we have the perfect floor and accessories for you!
1x1 Teak
1x1 Black and White Checkerboard
1x1 Black
1x1 White
Interlocking Subfloor
12" Mirrored Ball w/ 2 Pinspot Lights
Determine What Size Floor You Need
A good rule of thumb for planning an event: 30% of the total number of guests will be on the dance floor at any given time.
Option 1: How much space do you have?
Decide how much space you have for a dance floor. Or, many people use our portable flooring as a floor for the dining area, too. Either way, you will need precise measurements.
Option 2: How many guests will attend?
If space is not an issue, use the chart below as a reference guide to what size dance floor you require.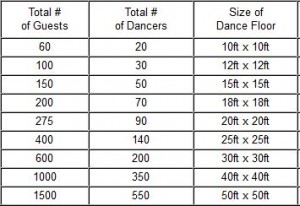 How to calculate square footage
If you don't know how to calculate square footage, here's a little tutorial. Refer to the example dance floor on the right.

Measure width and length of your floor. In the example, the width is 12ft (A) and the length is 18ft (B).
To calculate the total square footage, use the formula AxB = total sq ft. In the example, 12ft x 18ft = 216 square feet
Karaoke

Machine, Monitor, Microphone & 2 CD's
Complete Selection of Party Time CD's Fog Machine Fog Machine with 1 remote (Fog Fluid sold separately)