This fall add a little southern charm to your wedding day by hosting a rustic style wedding. The great thing about Mother Nature is that she and all her beauty is the perfect backdrop for a country wedding. It's not every day you see a bride and groom say their I do's in an old barn, or standing beside a mountain, however, these "atypical" venues are a great way to save money as well as let your creativity show through. Don't fret, these venues can still have a dance floor and DJ, or even a live band to get the party started. Your guests will be blown away by all of the special touches you add to your celebration. There's nothing like working with a blank canvas to make your vision come to life!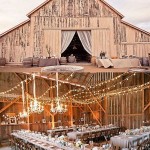 When you think Rustic Wedding, for us country music fans that may trigger the memory of when Miranda Lambert and Blake Shelton tied the knot. For myself, I remember seeing photos and thinking how simple yet elegant their wedding appeared. I mean, Blake Shelton did say his vows in a pair of blue jeans. Blue jeans isn't exactly the typical wedding apparel, but one trend popular by many rustic brides is wearing beautiful lace dresses. And maybe you are dreading having to struggle in a pair of heels all night? No problem! Stay true to yourself and sport your favorite pair or cowboy boots.
For those on a tight budget, Rustic weddings scream "do it yourself" projects. Take a look at Pinterest to find hundreds of ideas to create the perfect décor for your big day. Mason Jars are a hot item at Rustic Weddings because they can serve so many purposes and look great. Try creating these beautiful yet simple floral centerpieces. Also, easy enough use mason jars as the perfect way to serve your guests their favorite drinks, whether it is sweet tea, or a Whiskey cocktail, in a Mason jar. Get your creative juices flowing; get your hands dirty, create the day you always dreamed of.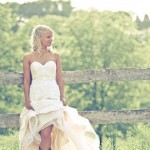 I personally love the idea of a simple rustic wedding. Don't let your love be overshadowed by all of the glitz and glamour of today's typical wedding. This earthy feel of a rustic wedding will highlight what everyone is there for; the coming together of you and your loved one!
As Always, Happy Blogging! 🙂