We have all heard horror stories about those brides-to-be who turn into "Bridezilla" the months approaching their wedding day. Many will tell you, especially those who have already tied the knot, planning a wedding is a stressful yet extremely rewarding experiencing. One of the first choices a bride will make post engagement is who they want to stand beside them through the engagement and planning process, as well as literally beside them when they say their "I do's." It is definitely an honor to be asked to join your loved ones bridal party, but for a first time bridesmaid, it may be a shock that the job description does involve more than just looking beautiful beside the bride on their big day. I am here to get back to basics, and share with you the important duties you now have under your belt.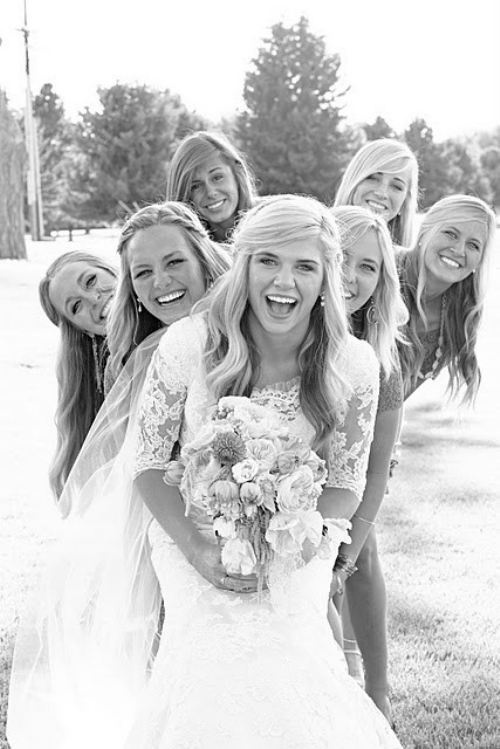 Yes, I did warn you that you may be dealing with a "Bridezilla." But keep in mind, if she asked you to be in her wedding party, you obviously must have a genuine bond with lots of love. She may be your sister (or sister to be), college roommate, best friend since the womb, cousin, sorority sister, or however you know each other, you have probably seen her at her best and worst. Just like those times before, part of being a bridesmaid is supporting her through this exciting and stressful time. Be sure not to be any extra added stress on the bride. We know everyone has a lot on their plate, but you will probably find yourself receiving countless phone calls, providing the bride with advice, and hosting the occasional therapy session with a pint of Ben and Jerrys, and those much needed girl's night out. But hey, that is what friends are for right?
Next, the fun part! Planning the bachelorette party as well as any bridal showers falls under the category of bridesmaid duties. Typically, the Maid of Honor is in charge of planning these gatherings but you bridesmaids will definitely let out your inner event planner! Get creative, and have fun with it! Plan a Bachelorette party to remember! As for the bridal shower, the soon to be newlyweds will be drowning in gifts and love, so as a bridesmaid, don't forget to write down all of the gifts as they are opened so appropriate thank you notes can be sent out! If you are the Maid of Honor, do not leave your speech writing for last minute. Give yourself the proper amount of time to write the perfect speech for the Bride and Groom.
So you have probably seen the new show "Say Yes to the Dress: Bridesmaids." If you have not, believe me when I say, agreeing on a bridesmaid dress seems like a battle involving blood, sweat and tears. My suggestion is to keep in mind; this is not your wedding day. The bride has a vision in her head of how her wedding day is going to look, and would it really be right for you to take that away from her? I am not saying agree to a dress you do not feel comfortable in or truly cannot afford, but be courteous of the bride's feelings. Keep your opinions constructive! Remember ladies, for every problem, there is almost always a compromise. Since you will most likely be paying for at least a portion of your wedding day apparel, make sure you kindly fill the bride in on your budget before she gets her heart set on a specific look. Next, for hair and makeup, you may also be adding that to your budget. Ask the bride what she is envisioning and make it come to life! Believe me; it will be worth the extra dime when you and all of the other bridesmaids look stunning standing beside the bride!
And finally the big day is here! Wedding day etiquette is something to keep in mind as a bridesmaid. Remember, you will have eyes on you so you want to keep classy and make the best impression possible.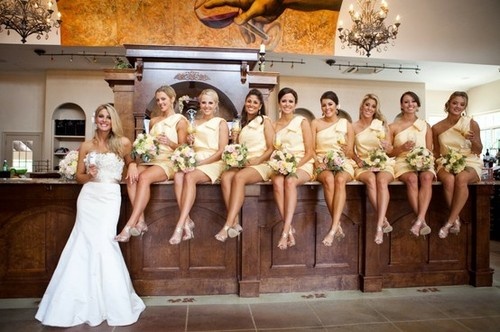 (Remember not to go overboard during cocktail hour!) Arrive on time, and follow the schedule the bride gives you with a positive attitude. Make sure you enjoy yourself as well, but be sure to keep your eye on the bride and help her with any needs she may have. Now go get the party started and dance the night away! By following these simple guidelines I promise, the bride will not be able to stop talking about how she was lucky enough to have the best bridal party in the world!
As Always, Happy Blogging 🙂