Many couples are looking for a unique and romantic way to show the word their love as they say "I do."  Hosting your wedding at a winery is the perfect place to show off your creativity, love, in a simple rustic way. It doesn't matter whether you prefer a bottle of red or white, or you like your wine sparkling, crack open a bottle and begin planning the perfect winery wedding!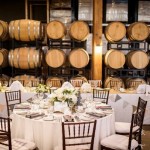 One of the perks of a winery wedding is that you have so many options to make your special day what you want it to be. With fall approaching, this scenic venue can allow you to say your vows outdoors without the beauty of the grapevines surrounding you, or you can choose to stay indoors as the wine ferments around you. Whichever you chose your guests will definitely enjoy this one of a kind venue and its romantic feel.
Another perk of this one of a kind venue is you will definitely get a photo shoot of a lifetime. The natural beauty of a winery in all of its forms will be the perfect backdrop for taking a variety of wedding photos. This day only comes once, so take advantage of the opportunity and hire a notable photographer to capture the experience. Take recommendations from friends and family and find a photographer who fits your style. You will not regret having these memories on film to look back on for the rest of your life together!
Now let's get creative. Think of all of the endless possibilities to jazz up and customize your winery wedding. Chose wedding décor in earthy colors or reds and burgundy's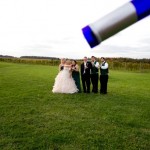 to enhance the winery feel. Wine barrels are a simple yet unique way to hold important items that you want guests to see or pick up. Use these barrels to place programs, seating cards, and guest books as well as display floral arrangements or photos for guests to admire. You can also use wine barrels as serving stations for cocktails and beverages. If you are a wine drinker, you may be sipping a lot of wine during the stressful engagement period. Put those corks to good use and get crafty by creating a variety of DIY projects to make your wedding unique! Corks can be used to make the perfect centerpieces; such as these table number cards we found on Pinterest, or keep it simple and fill glass vases with corks. These simple ideas will fit your winery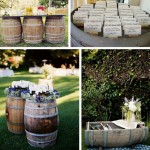 Your guests will be raving about the cocktail hour long after the hour ends at a winery wedding. Wine and cheese go hand in hand and cocktail hour is the perfect time to hold wine and cheese sampling! Give guests a wide variety of wines to taste and enjoy. A winery is the perfect place to sample the wide spectrum of fine wines. The aroma of your cocktail hour will be fabulous! Your venue will most likely work with a catering service, so check in with them and pick a variety of other appetizers as well as entrees to serve. theme and make the tables look great without stealing the show! Also, cut corks in half and use them as a holder for your table seating assignments. Your guests will love this cute but elegant way to direct them to the right place! Another creative idea I love is to fill empty wine bottles with string lights or candles, and this dim lighting technique will be sure to give your venue a romantic feel.
A winery is a simple rustic venue; however you don't have to have a simple celebration following your ceremony. Many wineries will have a set space to hold a reception and there will be plenty of room for a DJ or live band as well as some dancing! If you want to keep the party outside hold your reception in one of our elegant tents. If your wedding is during the cooler months talk to one of our associates about a tent with a tent heater to keep your guests warm! Don't let the weather change your vision!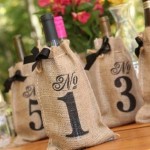 Send your guests home with a favor they will love! At a winery wedding a small bottle of wine will be the perfect giveaway. Meet with an expert at the winery prior to your big day and taste and pick out a signature wine you want guest to remember you with! Create custom labels to wrap your bottles so no one will ever forget your romantic winery wedding!
As Always, Happy Blogging 🙂