Here in Maryland we are lucky enough to have some of the best crabs in the country. People from all over come to our home to get their hands on some of the most delicious crab entrees you can get. Delicious doesn't have to be fancy and gourmet like you may be thinking, simply enough, crabs are tasty in their every form, but many people love them steamed fresh out of the water. Take advantage of this seafood luxury and host a crab feast this season! Now cover some tables, grab the mallets and Old Bay and let's get picking!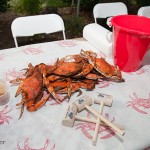 The first thing you need for a crab feast is well… Crabs! You can catch those little guys yourself or you can place an order in advanced for the amount of steamed crabs you will need. That does reduce some of the stress of catching and steaming the crabs yourself! Maryland has tons of crab houses around that would love to supply you with some tasty crabs. Something great about a crab feast is that it can be a casual day with your friends and family, or you host a crab picking gathering for a special event such as a birthday or engagement party. Make sure everyone knows this is not an event that you need to dress to impress. The art of picking crabs is messy, and I can guarantee, that shirt of yours probably won't stay clean.
Now that you're ready to get messy, it's time to get creative! Give your guests the essentials in a fun way! Tie together with a ribbon a fabric napkin, a personal sized old bay container, and a wooden mallet. This could be used at your event, or you can even send it home for a fun giveaway! You can even order customized mallets with your name and the date of your event on them! Your guests won't forget picking with the best!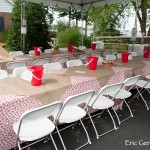 Here is a helpful hint; you can NEVER have too many paper towels! The hands of your guests will be covered in butter, old bay, crab, beer and more, but that's part of the fun of it! Make sure you have multiple places for guests to drop the nonedible part of the crabs. Like I said, crab feasts are on the more casual end of the spectrum, so even lining multiple silver buckets down the center of the table will do! If everyone is super hungry, individual buckets may be your best bet! Lining your tables in brown paper will help reduce the stress of the clean up because everything can be thrown away. For serving tables or events that are a little fancier, talk to one of our designers about getting your hands on our crabby linens! They are not only cute, but definitely theme fitting!
Now when eating crabs, what tastes really good washing it down? That's right, a nice cold beer. You can keep to the Baltimore theme and stock up on Natty Boh, or chose any beer to serve to your guests! Ask us about our beer kegtainers; these will be sure to keep your beverages chilled all day long.
We think the idea of hosting a crab feast for any occasion is a great one! Our friends Amy and Josh celebrated their marriage with a crab feast get together! Photographer Eric Gerber was able to shoot the gathering and we love the photos he took! Contact Eric about capturing the special moments at your crab feast or any special event you may be holding! Now go get those crabs and start picking! As Always, Happy Blogging 🙂