Are Las Vegas and Atlantic City a little out of your reach? Bring the two cities to you! A casino themed party can be great for birthdays, corporate events, or just a weekend together with friends.  From the food and drinks to the decorations, to the games, we have all the 'must haves' and other ideas to make your party better than the real thing!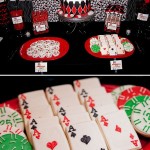 First let's start with the decorations. You will want to keep the red, black and gold color scheme constant throughout the whole venue from the centerpieces to the table linens. Give your guests a warm welcome with a grand entrance such as a balloon arch. There are easy to make yourself and can have a big impact on achieving the casino look.  At an event like this, there is not going to be a lot of sitting in one place, unless you are running the poker table of course, so set up banquet tables to display the food and drinks in a buffet way style. Then, have cocktail tables spread out around the room for socializing. Another idea to serve the food and drinks is to hire a bartender and servers to make drinks and hand out foods for guest. However, keep in mind that hiring staff for the event may be pricey. Check out our pinterest board for more decoration ideas!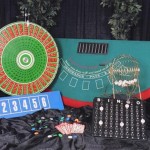 At a party where you will be spending most of your time playing games and socializing you do not want to have heavy or sit down food. You want to keep it light and easy for both you and the guests. Appetizers, such as cheese and crackers or tiny sandwiches are great choices. Check out the food network for more appetizer ideas.  Like we mentioned before setting up a separate table to serve cocktail's and really give that bar feel. Guests will be able to help themselves, but hiring a bartender will really complete the Vegas feel!
Now, the main attraction, the game tables! Here at Party Plus we have different game tables and money wheels for you to choose from for your entertainment.  Click the picture to see a list of all of the games we have or give us a call and one of our consultants will be happy to help you! If your budget allows, why not hire a dealer for the games too? That will not only complete the casino feel but now everyone invited can enjoy the fun because you can not have casino games without a dealer!