Our next "how to" is about rental companies.  You will find that most of the time you don't have everything you want at your venue.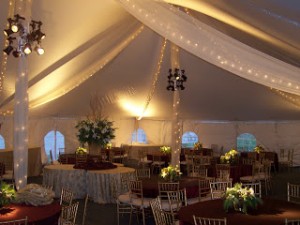 Sometimes a bride may want special uplighting for the room or specialty linens for her sweetheart table.  Other times a bride may want the venues patio tented so that her guests can enjoy the outside- be it rain or shine. Well- a rental company is the place you would call for these specialty items.
You want to choose a rental company that knows what they are doing.  Make sure that they are professional and have a good reputation.  Keep in mind the old saying when it comes to choosing your rental company that "you get what you pay for."  Some rental companies will give you the same look from afar but the quality up close does not compare.
A rental company can provide you with draping, lighting, specialty china, chocolate fountains, linens, furniture, and the list goes on and on.  They have just about everything and anything that you have in mind even popcorn and cotton candy machines for your novelty weddings!!
Here at Party Plus have been your renting headquarters for over 20 years. Call 1-800-Tenting for more details and talk to one of our special event rental consultants.