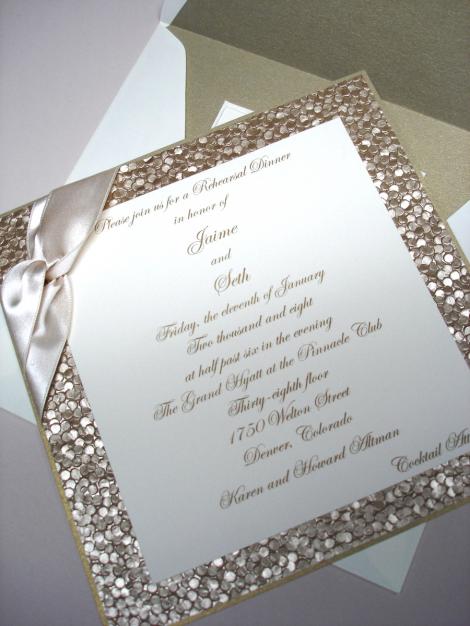 Have you ever been to a wedding that was so glitzy and glamorous that you thought to yourself, WHO DOES THIS BRIDE THINK SHE IS, THE QUEEN OF ENGLAND?! Well, on your wedding day, it is OKAY to think you are the queen of England! It is, after all, your special day. However, you want to remain modest. The last thing you want is for your guests to think you are a complete diva. We have some great ideas so that you can get the shimmer and sparkle that you want without being over the top! Add some sparkle and shine to your invitations to get the glamorous theme going even before your big day! Check out this website where you can get customized invitations that will give you all the glitz you're expecting.
By keeping the rest of the invitation simple, you are giving off the formal glamorous feel you're going for without being too over-the-top-diva (did we just make up that term?)
So check this one out: It's 2013, and you can now add glitter and shine even to your desserts! We found this awesome idea on Pintrest to incorporate the glamour theme to your dessert bar. Click the picture to see how this is done! If you are going with the traditional wedding cake, ask the staff at your bakery if they can add some glitter right to your cake (like I said, it's 2013. If you want a glitter cake, you WILL get your glitter cake!) When it comes to adding the glitz to your desserts, it's a sure way for your guests to appreciate your theme. Who is going to complain about there being too much shimmer if it's incorporated into something delicious they get to eat?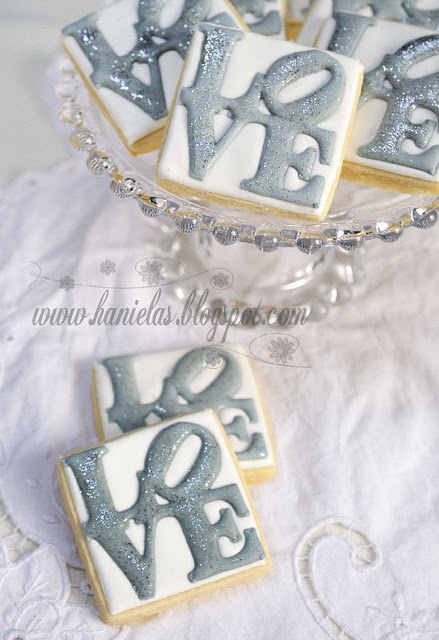 No one can tell you which wedding dress to choose, that is a decision that is completely up to you. If you want a dress that is completely decked out in glitzy, sparkly madness, go for it. Just remember, you want people to notice you, not your blinding, blingy dress. On your wedding day, you do not want people to get the wrong impression of you. By all means, get the dress of your dreams that falls within your budget. But if you don't want to come across as a diva, try going with a dress that you can dress up with add on's such as a broach, but that is otherwise kept simple and subtle (same idea as the invitations).
So now you know: you can be glamorous and still be modest! Just follow our tips on getting your glitzy glam wedding and your guests would never dream of thinking you're an over-the-top bride! We hope these tips will help you when going forward with the wedding planning!
As always, happy blogging :0)