Now that you have your wedding planner, it's time to start looking for that magical place- your venue!  There are so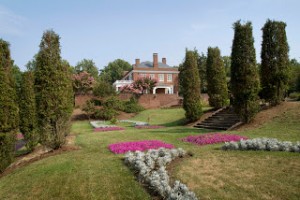 many venues to choose from, but you need to choose what is best for you and your groom.  Are you a traditional kind of bride, looking for a ballroom?  Are you a country couple looking for a barn wedding? Do you want to start with a blank canvas and have your wedding in a tent so that you can make it exactly what you want?  All of these are questions that you need to ask yourself.  Your wedding venue, just like everything else we talk about should represent YOU!
I recently sat down and spoke with Joanne Heard, the Director at Oxon Hill Manor.  She gave me good insight on what should be important to a bride when choosing her venue.
"Brides looking for a venue for their wedding day should consider what factors are a priority for them. There are many types of venues and choosing which type is for you is very important. Budget of course is always a consideration, so asking what amenities are included in the rental price is a must! Such as, does the site offer catering services? And is there an option for indoor or outdoor wedding? The other thing that a bride needs to consider when walking into a venue is, are the grounds kept and well maintained.  Is it clean?  Does it really show what type of person you are?   If at that point you absolutely love the site, it's important to keep in mind that you may need to be flexible in your preferred date, especially if it is during peak wedding season."
While Joanne brought up many great points,  Jill Jenkins from Pier 5also brought a few to my attention. "A bride must consider their guests.  Do you have a lot of out of towners?  Does the venue offer a hotel room for overnight accomodations.  And while your guests are here, does the venue offer activities and excursions to entertain them?"  She also reminded me of photo opportunities! "A great photographer can do wonders! But help him or her out and choose a venue that has plenty of vistas for some beautiful shots and a breathtaking wedding album!"  Thanks for the awesome tips Joanne and Jill!!
We hope that this helps you on your journey in finding the space that is perfect for you and your groom.  If you have any questions, please call the Party Plus Team and we can help guide you to the perfect location! 1.800.TENTING