October is right around the corner and do you know what that means? Oktoberfest is right around the corner as well! Hosting an Oktoberfest party is a great way to bring together friends and family with food, beer and great company.
Ok, as you start to plan your Oktoberfest, you will need to think about the size of your party and if you are going to either have the guests bring their own beer or if you are going to supply it. One idea so you do not break the bank is to ask each guest to bring a 6 pack of their favorite ale, lager, or any other fall favorite beers and every one can exchange and try each other's drinks! Along with the beer, another must have is the German food; brats, soft pretzels, sauerkraut, and beer flavor desserts. Brats and sauerkraut are pretty easy to grill and cook up, and you can buy soft pretzels anywhere. To really wow your guests rent a cheese fountain and have your guest dip their soft pretzels in the flowing cheese.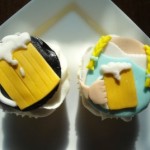 To continue the Oktoberfest theme into your desserts, you could make beer flavored cupcakes.  If you are a baking wizard, then you could decorate the top of the cupcakes with either a beer mug or a beer girl! But, if you are like the rest of us and not that crafty, using the beer caps as toppings works just as well!
Now onto setting up and decorations! The first weekend of October is still pretty warm so enjoy the weather while it lasts and have your party outside if you can! Our tent specialists can help you choose the right tent type and size for your backyard. For everything tables, chairs and linens give our event team a call and we can help you decide the right amount you will need along with anything else you may think of!
Ok, one last crucial, most important thing you will need to know, "A bier, bittschen", translation "One beer, please".
Now, guys throw on their Lederhosen and, ladies dress up in your Dirndl, and raise your beer mugs or beer boots to having a great Oktoberfest party!
As always, happy blogging 🙂