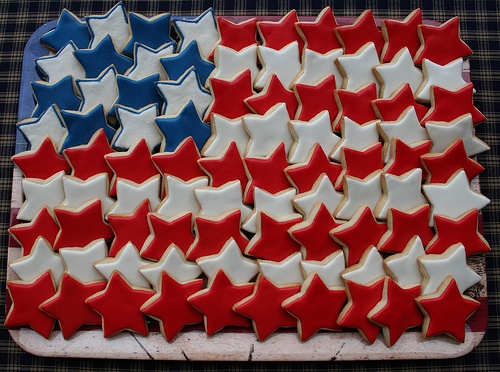 It's almost Independence Day! Fourth of July is personally one of my favorite holidays. It's the middle of summer, there are fireworks and good food… what's not to love?! Since it is always best to plan your parties a few weeks in advance, we are here to offer a few suggestions to make your Fourth of July party a big hit. As with any big party, food is going to be a major priority. We have charcoal grills and propane grills as well as rotisserie baskets and other catering supplies you may need for an outdoor barbecue. If you're hosting a fairly big group of people, check out our hot dog stands! It will make your life easier, people can self-serve! We have some creative ideas for some delicious, Fourth of July inspired party food! Of course hamburgers and hot dogs are always a must; but if you want to go above and beyond, check out this recipe for some barbecue ribs! Also, get creative with dessert. We love these Fourth of July cookies. They're so simple and patriotic, kids will love them! Just make up a batch of star shaped sugar cookies, ice them with the appropriate colors and arrange in a flag shape…. So cute!
To cool down, we have this crazy awesome idea. Put this mixture of drinks into a beverage dispenser (which we can indeed provide). But how does it work? The type of juice you use with the highest sugar content will since to the bottom. Try something like fruit punch, then add blue Gatorade. Since Gatorade has less sugar, it will rise to the top. Science can actually be kind of cool! (Well…..) And you can always add your favorite liquor into this for some adult fun!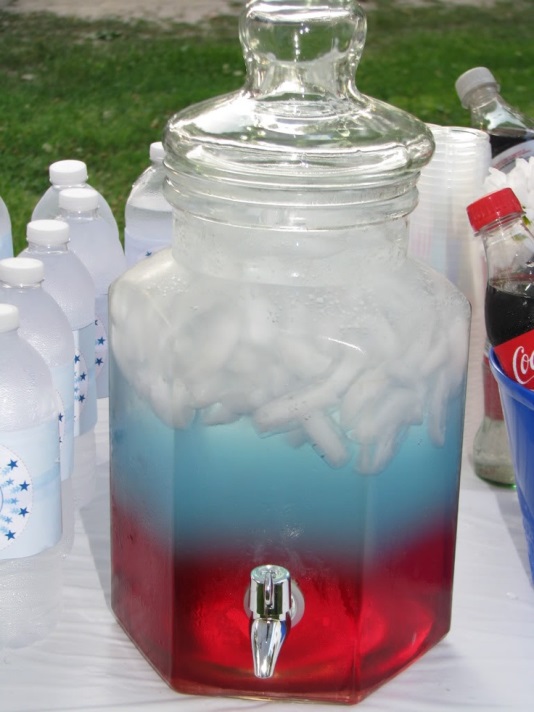 As for entertainment, you already know about our sound systems, carnival games and moon-bounces. If you have a pool, we found some fun pool games for both kids and adults to enjoy. A pool volleyball net is a good way to get adults and kids to have fun together, pick teams and have fun with it! Here is a link for an inexpensive pool volleyball net that will bring everyone at your Fourth of July party together.
Of course there's the ever-popular Fourth of July fireworks to end your celebration with a bang. We want you to have fun and put on a great show, but we also want you to stay safe. Here is a link for some safety tips when dealing with fireworks, that way you can make your fireworks display both amazing as well as safe for everyone involved
We hope you have a safe and enjoyable Fourth of July! As always, Happy Blogging!