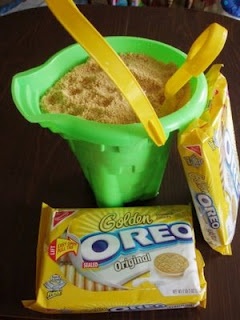 We know how important it is in the summertime for your pool party to TOP any party that will happen this summer! We are equipped with everything you need to keep people satisfied and entertained while you have fun in the sun! Whether you need tables and chairs, inflatable moon bounces, games, cookout equipment, or canopies to protect you from the sun, we are your go-to source to make your pool party the event of the summer!
Of course we have to mention Pintrest, just like we do in all of our blogs because we are obsessed! But anyways, click on the picture with the inflatable pool to see all of the adorable ideas that cater to the kids. Here is a little twist on "dirt cake" everyone loved as a child, instead of regular Oreo's you can use golden Oreo's to make "sand cake" that will keep the theme of the pool party! Click on the picture to find out the recipe, it is sure to be a huge hit at your party!
If your pool party is centered around kids, we would definitely recommend some of our inflatable games that will thrill kids of all ages! Keeping with the inflatable theme, we think this is a great idea for keeping drinks cold, and is completely different from just the usual cooler that most people use at pool parties.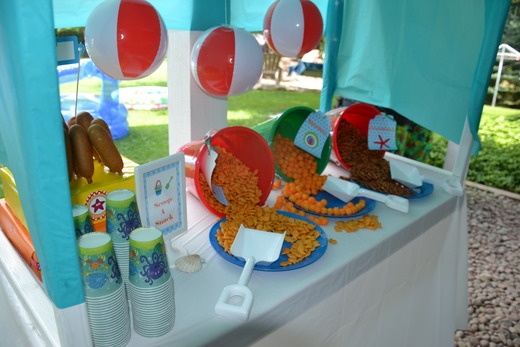 We also know how unbearably hot it can get when you're sitting out in the sun all day. We have canopies of all sizes that can definitely help you and your guests keep cool in the shade! Check out our picnic packages here to get the most bang for your buck.  Want a quick snack and a way to keep cool? Get a sno-cone machine! We have all sorts of flavors that will keep everyone happy and smiling. We also have tons of concession items so be sure to check them all out here! Once you have your tables all set up, here is a fun way to display your snacks making it easy and accessible.
Please consider us your go-to pool party specialists when planning your pool party! We would love to help make your summer the best ever!
As always happy blogging!