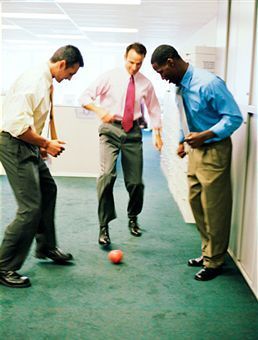 Got the case of the "Mondays" every day while you're at work? Getting along with coworkers can help the work week go by faster and easier for everyone. Having team building activities every couple of months is a great way to make sure conflict stays out of the office! Getting together either after work or during lunch at a restaurant close by and talking about anything BUT work is a great way to learn new things about your coworkers.
Host a "Staff Day" at the office to make the day lively and entertaining for everyone. Minute to win it style games are short and entertaining to both watch and participate in. Follow along with LIVESTRONG to get some great ideas on running team building exercises in your office! Click the picture to find out more!
Have an annual picnic for the whole company and their families, where there is an unlimited amount of food and games. We have tons of grills, backyard games, and any supplies that you may need for your team building activities to make your event great!  Volleyball and relay races are always a crowd favorite!
Happy Blogging :0)