This year, some days is it beginning to feel a little more like fall earlier than usual.  Although the official Autumnal Equinox isn't until September 22nd, these lower than usual temperatures are making me anxious for all of the excitement with all that comes with the incoming season. There is nothing like a season that smells of a pumpkin spice latte from Starbucks, and burning wood from a fire. So as the summer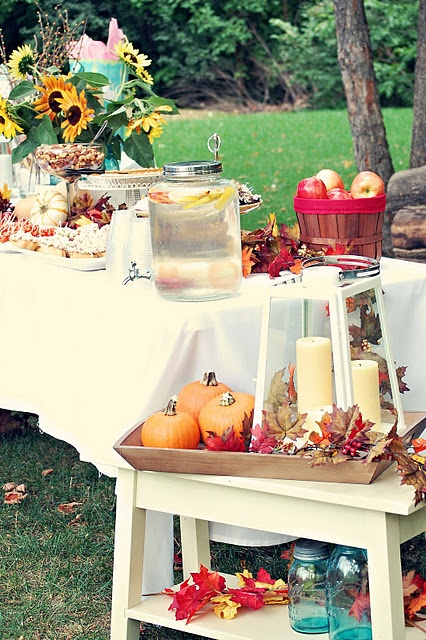 comes to a close, why not keep the party going this fall with an Autumn Fun Fest!
Here at Party Plus, we think there is always a reason to celebrate! Even temperatures dropping and the leaves changing into all shades of warm colors is enough of a reason to get friends and loved ones together to reconnect. The great part about Autumn is that with just a light jacket, your party guests will be comfortable enjoying the outdoors. We at Party Plus, have all you need to throw the perfect party. Accessorize our tables and chairs with our earthy colored linens. Top tables with sunflowers or make centerpieces out of fresh produce such as apples in baskets. Being that it's fall, you may even be able to say you picked those apples yourself!
It would not be a party without food! A fall themed party gives you the chance to get creative and create standout treats for your guests. Put your apron on and get messy in the kitchen! Stop by your local farmers market, and pick up this seasons freshest produce. This photo we found on Pinterest shows a creative way to serve your fresh veggies and dip in a pumpkin! Carving out a pumpkin can also serve more of your favorite snacks! Those with a sweet tooth will love the caramel apples, as well as acorn treats made out of mini donut holes! Another way to spice up your water is by creating apple cinnamon infused water. Your guest's taste buds will be tingling!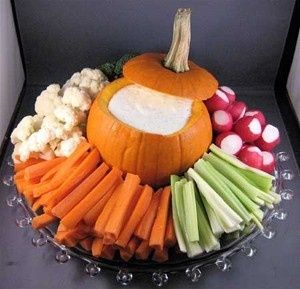 In order to have some fun at your Autumn Fun Fest, you have to have some games! At Party Plus we have a ton of outdoor games that will keep the fall fun in your get together. Corn Hole is always a crowd favorite. Check out our extensive list of games and see what catches your eye! Everyone loves to have fun, so give your loved ones what they want with an Autumn Fun Fest!
As Always, Happy Blogging 🙂