As the leaves are starting to turn colors and you can smell the cold in the air, you may have already started to scrap off the frost on your car or snuggle up in a blanket by the fire at night and think "Ah winter is almost here".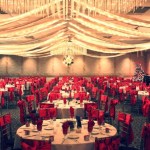 Not all of us like the cold and the thought of driving in the snow and sleet makes plead for summer to come back, however the white blanket of snow and ice crystals can make a beautiful backdrop for a wedding. Just imagine tea lights lite all around glistening off the snow, cool blue colors (or reds), hot chocolate bar, and so much more with a Winter Wonderland Wedding!
You can either choose to go with different shades of blue for a glittery look or red and greens for more of a holiday feel, both will look beautiful. Bring the snow in from outside to make your venue look like an elegant blizzard. Different types of lights arranged around the inside of the tent are going to turn your venue into the winter wonderland. Drape icicle lights or Christmas lights across the tent along with swags of white or light blue drape to achieve the look of the cool artic. Up lighting along the walls will also add for effect.
When it comes to your flowers use white with either blue or red depending on which color you chose to go with. Add ferns and pine cones, and holly berry leaves. You can use these flowers in the bouquets as well as on table
If you are going to use flowers as table centerpieces pair them up with tea light candles and make sure that they do not block the person from across the table. You want people to interact and have fun at your wedding so do not let the flowers block them from doing so.  You can also use pine cones as table number cards or as escort cards.s for different centerpieces. And of course you will need some mistletoe in the entrance of the venue.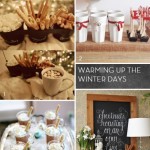 Another great idea for your winter wonderland is having a hot chocolate bar for your guests. This is great because both adult and children can appreciate it, and honestly who does not love hot chocolate?! There are a couple different ways you can have your hot chocolate bar. You can either have the coco powder to mix in with the hot water or you can have different types of chocolate on a stick that will melt in the hot water and you will already have a something to stir with. You can also use pirouette sticks or candy canes as stirrers too. And of course you are going to need marshmallows! If you can find heart shaped marshmallows that would look super cute, but any kind of marshmallow will do the trick! For the adults have Baileys or Kahlua liqueur to heat up their hot chocolate!
Other great winter drinks that can be both alcoholic and nonalcoholic drinks are apple cider (hot or cold), eggnog, rumchata and coffee, candy cane martini, ginger lemonade and so much more!
Check out our Pinterest page for more Winter Wonderland Wedding ideas!
As Always, Happy Blogging 🙂