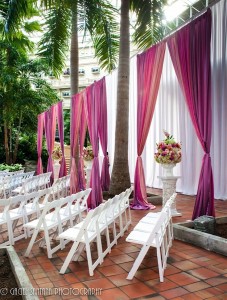 Pipe and Drape is often used as a standard backdrop for commencement ceremonies or made into booths at trade shows, but did you know it could also act as the perfect finishing touch at weddings?
The Big Day
Weddings are the perfect time to use pipe and drape to complete a romantic look.  Draping at the altar can make an elegant back drop for pictures as well as a focal point during the ceremony, as well as distract from any areas that may not be as pretty as one would like at a wedding.
Pipe and drape is also an excellent tool for an entrance-way that may not be quite up to par for a glamorous wedding.  Hide the drab doors to the reception hall with flowing drapes that are pulled back to leave room for guests.  Drapes can be selected in colors handpicked to match any theme and the sky is the limit when it comes to how the fabric is adorned on your special day.
Lighting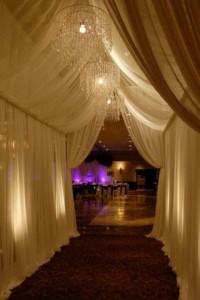 Using pipe and drape can add a touch of elegance to an otherwise drab environment, but lighting that fabric in creative ways can make your event sparkle with romance.  Chandeliers, fairy lights, back lighting or string lights…the possibilities are endless when it comes to illuminating your dreamy draping.
A few specialty light fixtures down an entrance hall surrounded by glamorous draping will make your evening wedding one to remember from the moment guests arrive.
Linens
Every bride and wedding planner knows how crucial the right choice of fabric is to a wedding.  Color schemes are generally the first step, but clashing textures can be tacky enough to ruin the ambiance you've worked so hard to create.  Party Plus has a plethora of colors and styles of fabric to choose from when it comes to adorning your wedding day with the perfect drapes.
Need some more inspiration for how to add pipe and drape to your day?  Check out our pinterest boards for fun and romantic ideas!